Help and FAQ
What is my CASE ID and PIN?
The CASE ID and PIN can be found on the card provide. The CASE ID consist of 7 numbers and the PIN consist of 4 numbers. Each CASE ID and PIN are unique to each case. An example of where the CASE ID and PIN can be found is displayed below: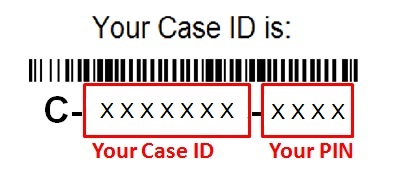 What If I lost my card with the CASE ID and PIN?
Please e-mail enquiries@accu-metrics.com with your FULL NAME, type of test you requested and the e-mail or phoWhat is my CASE ID and PIN? ne contact on the form and we will get back to you within 24 hours. Our laboratory experiences over 4,000 tests a day so staff cannot respond immediately to your concern but it will be addressed.
When can I access my report?
You will not be able to access your report until the testing has been completed by our laboratory and it has been released by our laboratory.
What should I look for in my e-mail Inbox?
Once your test is completed, we will e-mail you instructing you to login to view your results.
How long do you keep results for?
Due to confidentiality and privacy, we only retain certain results for 6 months. Certain tests services are held longer however most are not retained over a specific period of time. We recommend that you keep copies for your own record.
If you are unable to access your case information using your CASE ID and PIN, please contact us at enquiries@accu-metrics.com